If you're like most Americans, you are unsure how much to save for retirement. A major consideration is how the market will perform against inflation during the next three quarters or two years prior to retirement. With several trillions of dollars managed by the collective investment community, how can you be sure what stocks or funds will indeed survive such economic conditions?
In other words, how do you know how mutual funds, stocks, and other investments that you may hold strongly influence your decision on what percentage to allocate in your 401(k) contributions based on past performance? A Texas financial advisor at PAX will tell you that your behavior and responses are influenced by your purchasing power, which depends on your income level, earning and saving ability, and inflation trends.
Fluctuations in the market actually create opportunities for growth and change, so don't fret about high inflation as you may have in the past! With professional support from financial advisors in San Antonio during times like these, you won't feel panicked because a comprehensive financial plan will guide you through economic ups and downs.
We can help you navigate challenging economic times to help you prep your 401(k) for high inflation survival:
Review your 401(k) and make alterations as needed
Diversify your investments
Invest in stocks and bonds to hedge against inflation
Stay the course during high inflation (knowing it won't last forever)
Ensure you're not paying more than necessary
Should you change your 401(k) portfolio during times of high inflation?
It can be in your best interest to review your 401(k) portfolio and make alterations. This may not be the case for you if you have a good plan in play, but if you doubt its effectiveness in supporting your retirement dreams, ask us about reallocating your investments. As fiduciary financial advisors in Texas, it's our duty to ensure your investment decisions align with your values, goals, and even faith!
Diversify your investments with the help of financial advisors in San Antonio, Texas
Investing in different asset classes like cash, bonds, stocks, real estate, alternative investments, etc., reduces the risk of not achieving your financial goals. Diversifying across multiple asset classes can help you sidestep losses because your investments are widely dispersed. PAX Financial Group can help you figure out how and when.
Investing in a bear market
While in a window of high inflation and dipping into a bear market, market prices drop for an extended period due to counteractive economic events that may impact your confidence. Some investors fear recession which has followed high inflationary periods.
Extreme selling pressure can lead to poor decision-making, so if you feel that you cannot sell your shares fast enough, chaotic trading could be a devastating end-game. By understanding asset allocation within your retirement savings accounts, you can feel the security of inflation protection.
Invest in stocks and bonds to hedge against inflation
If stocks are the only thing on your financial agenda, it may help to expand your investments into bonds during times of high inflation. Index funds provide low-cost, lower risk avenues into the market without paying high fees. An IRA account or 401k is needed to access these funds.
Depending on your risk tolerance and time horizon, the diversification in your investment portfolio will vary, so work with a financial advisor in San Antonio to make sure you are positioning yourself properly.
Stay the course during high inflation – don't sell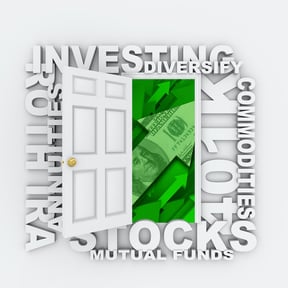 Do not panic if your investments drop in value as the market falls. Just like human emotions, it's natural to have ups and downs, so know that the market downturn won't last forever—it's just temporary. Rather, make sure you have a sound reason to sell an asset (or not buy one) before making a final decision. And when in doubt, ask us for a second opinion.
If you're thinking about selling an investment, the rule of thumb is to sell when the value is lowest—selling at a lower price equals higher earnings. If you're looking at purchasing new funds or stocks, seek sectors or companies that have sound fundamentals that seem undervalued (versus temporarily overlooked). If good performance and/or external factors such as economic growth or interest rate changes, your ROI will too.
It can help to hire a Texas financial advisor who will serve as an accountability partner
As a fee-based, fiduciary financial advisor in San Antonio, PAX is here to remind you to be careful when sifting through different financial advisory firms in Texas. You deserve to receive investment advice that focuses only on your best interest at all times. With professional support, you can stay on track and avoid the investment pitfalls—here's how.
Stay on track with regular reviews of your 401(k).
Regular reviews with your financial advisor in San Antonio can help you manage your retirement savings wisely during times of high inflation, to ensure that it's still in alignment with your financial goals. They can help you avoid overpaying in fees and get the best possible returns from your 401(k) portfolio.
Don't let inflation cloud your judgment.
Again, it's essential to not let the rising prices and impacts of high inflation rule your world. With our support you can make informed decisions regarding strategies for your 401(k) moving forward. Remember that economic downturn and recessions can happen, so plan for them.
The Takeaway
Your 401(k) investments won't disappear overnight if the market crashes. Investing requires taking risks, so stay strong knowing that a rebound is on the way. Talk to us about investing for the long haul as you remain committed to making regular contributions.

Tell us what concerns you have, get a second opinion, or reach out for financial advice today! We look forward to working with you for the long term.